Who does that? Take a location and transform it into a scene from a favourite movie? It's almost like taking a part of New York and transform it in Gotham City or a part of London and transform it into a scene of Transformers.
Our comparisons may be flaws, but you get the logic.
Just think, wouldn't it be a dream to relive the scene?
Well we have good news! Secret Cinema is doing just that! it's been changing the way we as viewers interact with movies…rather than going to the cinema chewing on pop corn or milkshake. With new technology we now want to find new ways of engaging in the film — by being in it.
After a few mishaps with the organisation, Secret Cinema sets off with its "Back 2 The Future" theme, based on the classic movie where Marty McFly flies back to the 1950's. Right on the heart of your door step, overlooking the Olympic Village, was the location transformed into the movie scene's In Valley Town Square. Where everyone and WE MEAN EVERYONE dresses in their 1950 best. Everything from that scene, from the Cattle Queen Of Montana to the Texaco gas station were brought to life.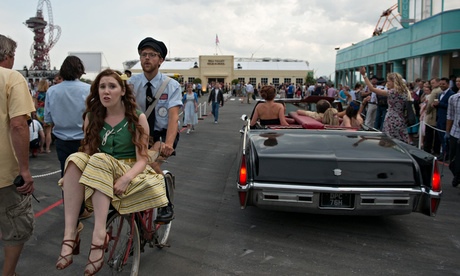 Image: www.guardian.co.uk
Image: www.roadrippers.com
Image: www.11points.com
Many fans of cinema attended the "Back to the Future" screen party. With the company filming the whole screen series on the night. It's almost reliving the same realities in the eyes of the character in this new world. Reliving favourite moments from the movie such as Marty Mcfly playing the guitar at the ball, waiting for hot-dogs in the diner…it's crazy and mind-blowing.
Yet this is how Secret Cinema is setting itself among the biggest consumerist film festivals. What will be there next theme? Where will their next location be based? Who knows? It's a secret. Shhhh.
http://www.secretcinema.org/